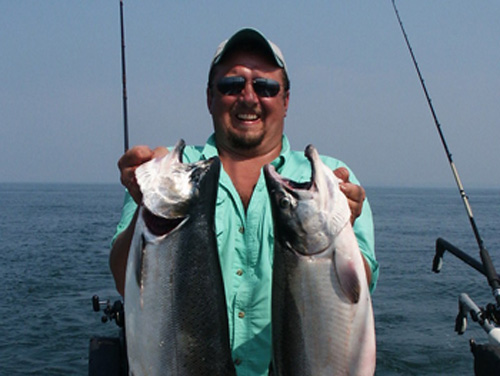 Meet Captain David Lee
Captain Dave spent much of his "younger" years working for area marinas learning from some of the most experienced charter captains on the lake.
Fishing for Captain Dave is not a job...it's his lifestyle!
He is a FISHHEAD in every sense of the word!
No matter what time of year, Captain Dave's fishing knowledge and numerous on-lake connections always lead his charters to the right spots holding fish all season long.
Come and share Captain Dave's enthusiasm for the fishery!
Captain Dave is a proud member of the Humminbird Electronics, Cannon Downrigger and Warrior Lures' Pro-Staff.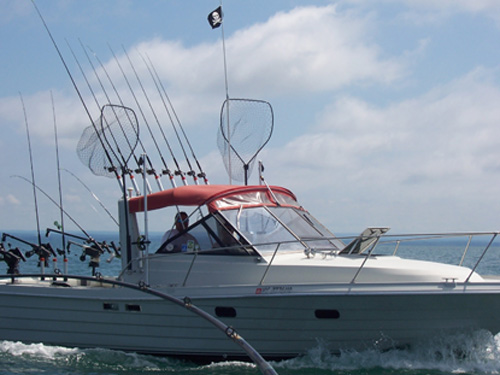 Boat & Equipment
EXCURSION 3 is a 28-foot Penn Yan Predator with an 11-foot beam making for a stable ride and a great fishing platform. "The beam gives us the room we need when we get doubles going!" Excursion 3 is equipped with twin 350 horse power Mercruiser engines, not only for speed, but for safety! Originally owned by the Niagara County Sheriffs Department, everything was impeccably maintained. A super fast boat designed as a sport fisherman "pocket Canyon Runner" for law enforcement made it an ideal boat – fast, in even rough water.
EXCURSION 3 is fully canvassed, including a rear drop curtain, making cold early/late season fishing comfortable. The boat is equipped with 5 brand new, high-speed Cannon Downriggers, Furno 582L (sonor), Rayatheon GPS / Plotter, digital in-dash depth finder, marine radio, and a SIMRAD autopilot, as well as an AM/FM, cassette, and CD stereo system. Excursion 3 also has 2 planner board mast and reel systems, as well as numerous rod holders and is also equipped with a private marine stand-up head for your comfort.
Captain Dave has never met a tackleshop he doesn't like – you'll always have a plentiful selection of the hottest lures! Captain Dave uses Diawia Line counter reels matched with Heartland Rods, always spooled with fresh Trilene XT. "I don't know the last time I lost a fish due to bad line!" Copper and lead-core spooled combos are also in the arsenal for those tough bite situations.